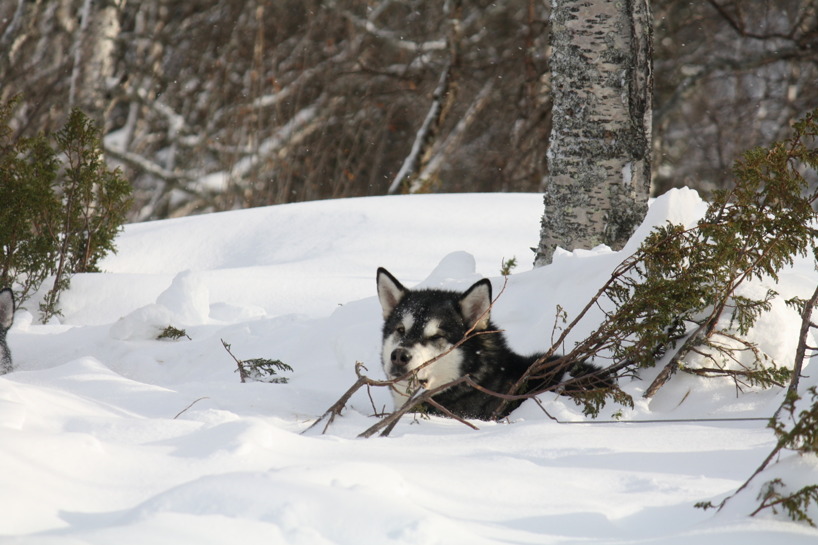 English
The company is a small family company which has the heart in the right place. We produce crafts on a small scale and with much care. Our mission is that the customer should be able to find personal and beautiful things that are well made with carefully selected materials.

The company's name is inspired by a polardog;
Frost, who was an Alaskan Malamute and lived in the norhen swedish mountains along with a whole bunch of polardogs. He was both wise, strong and full of commitment. During his lifetime he managed to be both an sleaddog, obedience dog, family dog, pack leader, instructor dog and his greatest achievement was to participate in the long distansloppet "PolarDistance".
The competition is classed as Northern Europe's toughest longdistansrace. Frost crossed the finish line in 2011 as the leaddog. He was a big pride in both the pack and the dogteam, reliable and extremely smart. A colleague and great companion, deeply missed.

He was taken away from earth life too early as eight years of age in August 2014.
Svenska
Företaget är ett litet persoligt företag som har hjärtat på rätt ställe. Vi tillverkar hantverk i liten skala och med mycket omtanke. Vår affärsidé är att kunden ska kunna hitta personliga och vackra ting som är välgjorda med väl utvalda material.

Företagets namn är inspirerat av en polarhund; Frost, som var en alaskan malamute och levde i de jämtländska fjällen tillsammans med ett helt gäng polarhundar. Han var både klok, stark och fylld av engagemang. Under sin livstid hann han hos sin famlilj och flock med att vara både lydnadshund, familjehund, flockledare, instruktörshund och hans största bedrift var nog att delta i långdistansloppet "Polardistans". Tävlingen klassas som norra europas tuffaste slädhundstävling. Frost gick över mållinjen 2011 som ledarhund. Han var sin ägares stomme i både flocken och hundspannet, pålitlig och oerhört smart. En kollega och livskamrat, djupt saknad.

Han togs ifrån jordelivet alltför tidigt som åtta år gammal i augusti 2014.